How to play windows games, on Linux-based operating systems? This question is asked by many users, and this is precisely what makes it difficult to switch to Linux.

Let's take a closer look. In fact, in Linux, you can play, and even need to, because in recent years, developers have added a lot of things in order to be able to play games. For example, Steam, together with Walve, added Proton to their platform, which allows you to run windows games directly from the Steam system.
Another tool that helps launch games is called Lutris. Let's take a closer look.
What is Lutris?
Lutris is an open source gaming platform for Linux. It installs and launches games, so you can start playing without the hassle of setting up games. Get games from GOG, Steam, Battle.net, Origin, Uplay and many other sources running on any Linux gaming computer.
Lutris uses community-provided installation scripts to ensure optimal performance and customization. After installation, games are launched with programs called runner. These runners include RetroArch, Dosbox, individual versions of Wine, and more!
This is a completely independent project, and Lutris will always remain free.
Lutris is a game client for Linux. It gives you access to all your video games, with the exception of the current generation of the console. In a single interface, you can run any game, starting with childhood memories and ending with modern multiplayer games. Integration with stores such as GOG and Steam allows you to import an existing library of games, and community-supported installation scripts provide fully automated configuration.
Mathieu Comandon (aka Strider or Strycore) has been experimenting with Linux since 1997 and has become a regular user in 2006.
Back in 2006, playing games for Linux was not an easy or necessarily fascinating task. Own ports were rare, then there was still id Software support with ports for id Tech 4 games such as Prey and Quake 4, and that was almost all. Other games were open source games, emulators, or Wine, which were still struggling with DirectX 9 games at the time. Later, another product will appear: Cedega, its own user interface for a fixed version of Wine (formerly known as WineX). This allowed you to play games like Left 4 Dead and Call of Duty 4 on Linux.
Seeing the potential of Linux as a gaming platform, but giving up on spending so much time setting up games, Mathieu took up the idea of ​​automating gaming installations. He spent several days learning Python and GTK to create a launcher for TES: Oblivion, but then wanted to apply the same principle to any game that can be played on Linux. At the end of 2009, Lutris was born …
How to install a game on Linux using Lutris
To get started, install the latest drivers for your video card, and also see how to install winehq.
If the video card supports the Vulkan API, then install the necessary libraries (most likely they were already installed when installing the video driver.
sudo apt install libvulkan1 libvulkan1:i386
Be sure to install Wine and drivers!
If you plan to play games for Windows to ensure smooth operation, install the latest version of Wine on your system. This will provide all the necessary dependency, since Lutris cannot be shipped with each component at runtime. When playing games, lutris will use a custom version of Wine optimized for games. Links to video drivers and wine, see above.
How to install Lutris on Ubuntu/Linux mint and the like
To install Lutris on Ubuntu, open a terminal and enter the following commands
sudo add-apt-repository ppa: lutris-team / lutris

sudo apt-get update

sudo apt-get install lutris
Install Lutris on Debian
Debian compatible packages are available in the openSUSE build service.
You can add a repository to receive automatic updates:
echo "deb http://download.opensuse.org/repositories/home:/strycore/Debian_9.0/ ./" | sudo tee /etc/apt/sources.list.d/lutris.list

wget -q https://download.opensuse.org/repositories/home:/strycore/Debian_9.0/Release.key -O- | sudo apt-key add -

sudo apt-get update

sudo apt-get install lutris
For other systems, visit the site – https://lutris.net/downloads/
After installation, locate Lutris in the application menu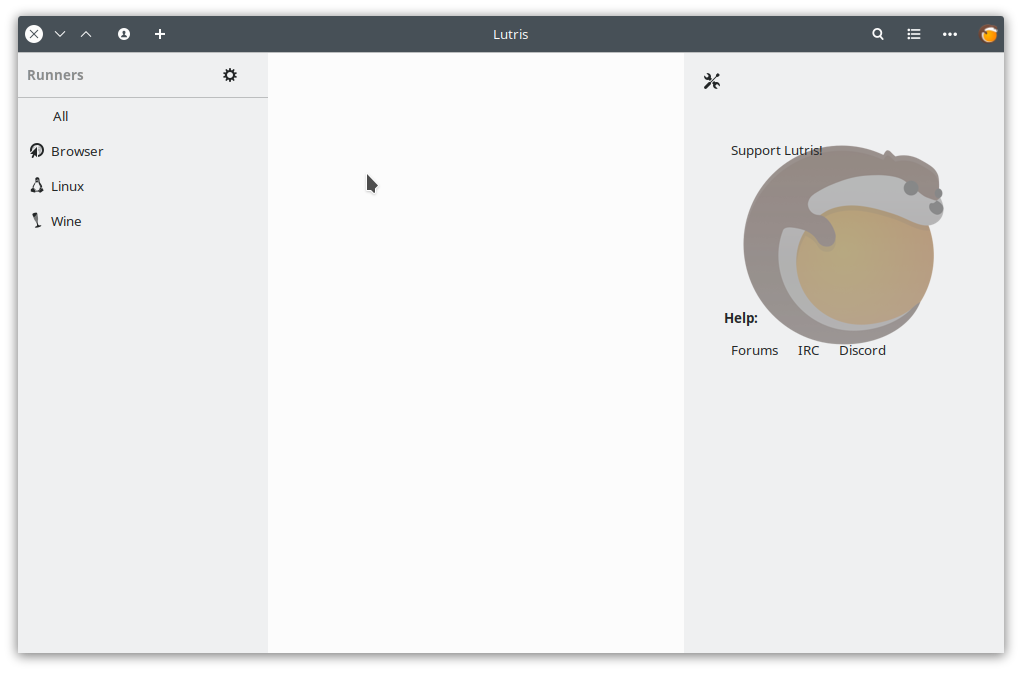 In order to install games in Lutris, go to the official website and select a game from the list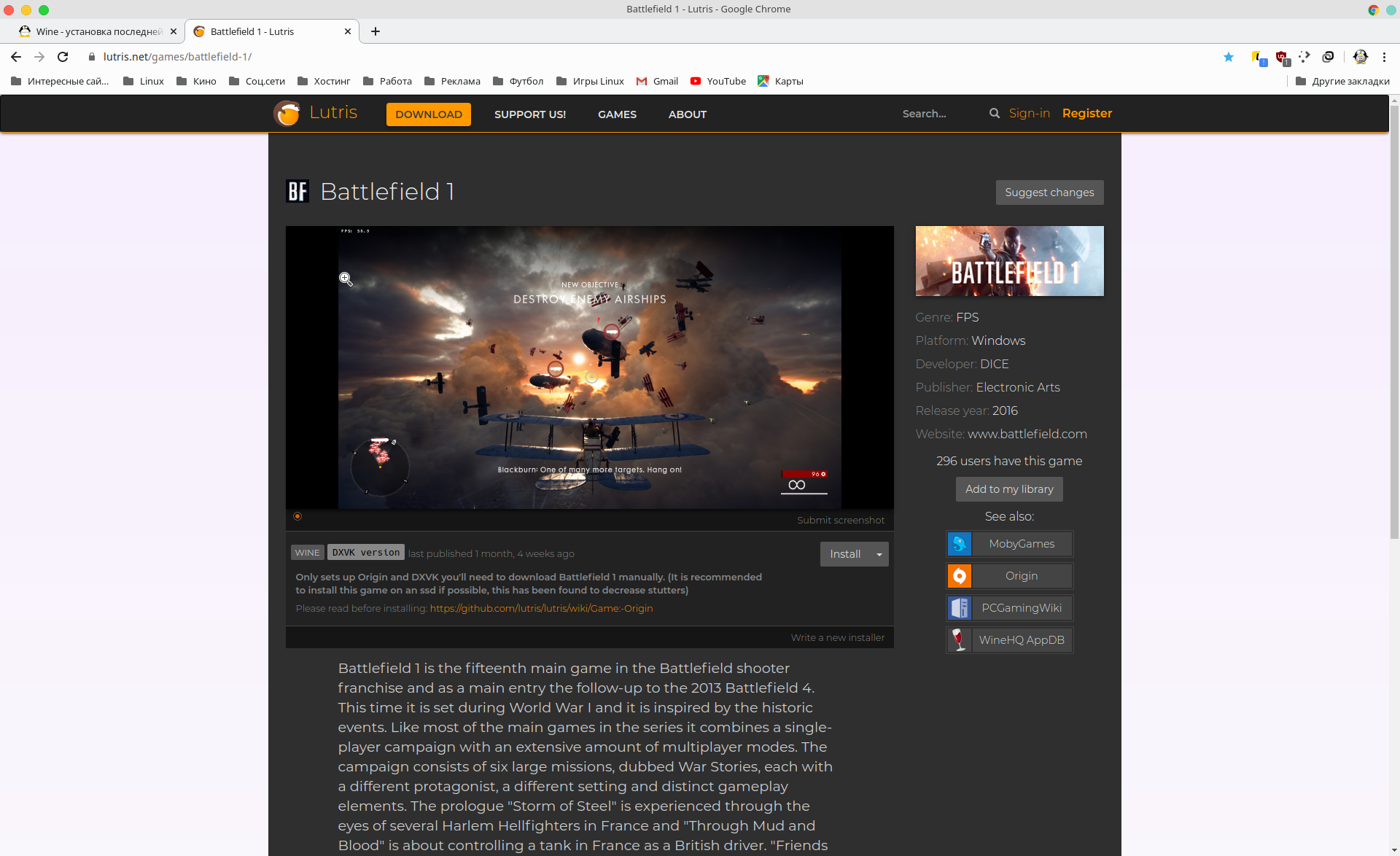 Click the "Install" button, and you will see a pop-up window confirming the installation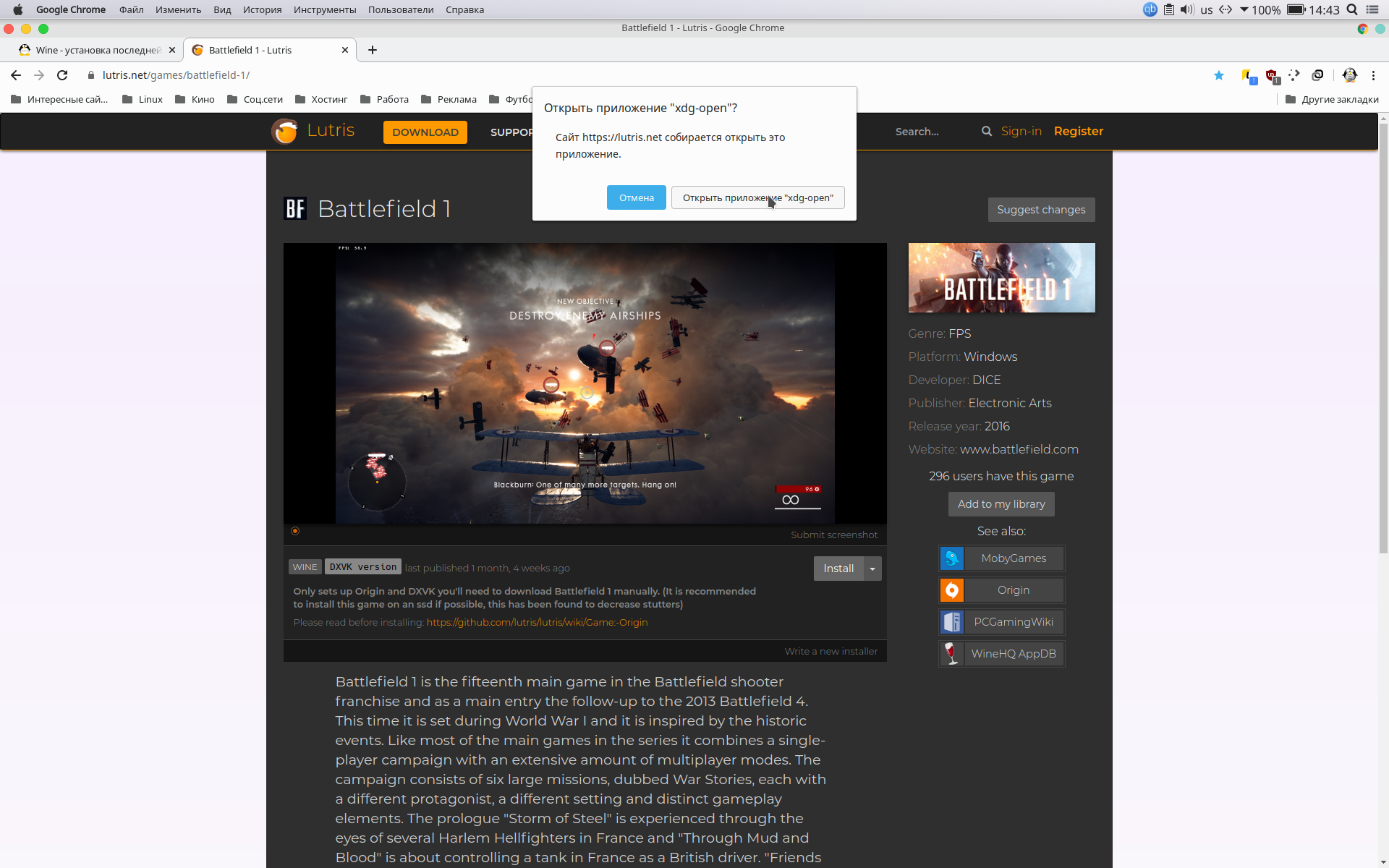 The Lutris program opens, where you just have to agree to the installation conditions.
After installing the game, it will appear in the application, where you can launch it by clicking the "Play" button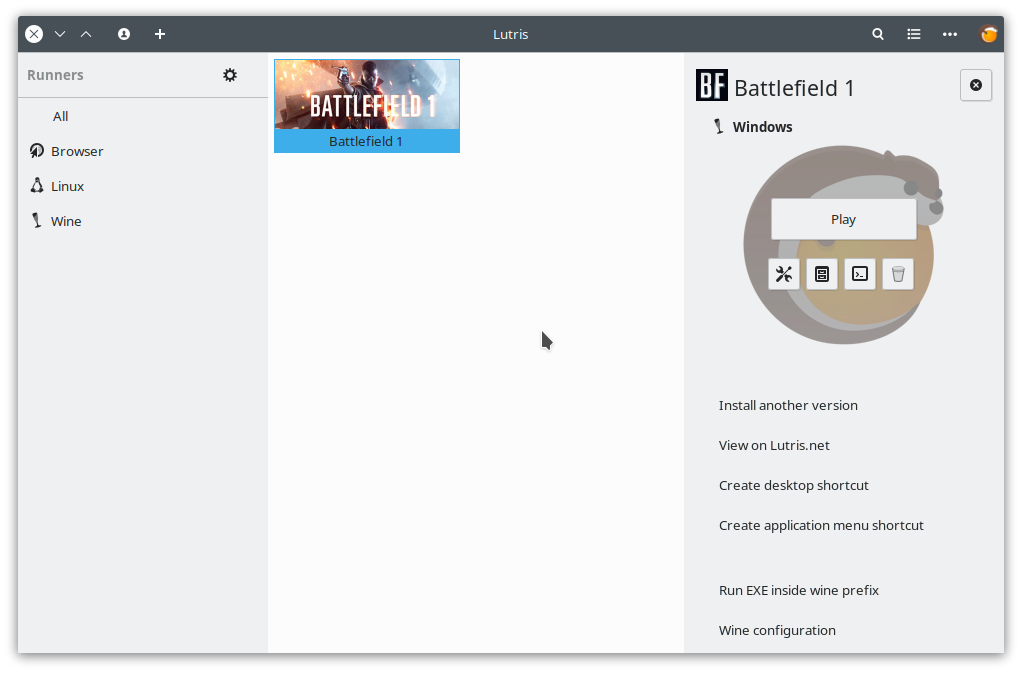 In this video, I demonstrate how I launch Battlefield 1 on Ubuntu 18.04 (Kde Neon)
https://www.youtube.com/watch?v=je_MwGi4Nrw
Do you play games on Linux? Write in the comments below which games you play and what tools you use to run them.